The keyboard is often one of the computer elements that we keep the longest and for good reason. Unlike the components of our PC like processors and graphics cards, keyboards know only small technological evolutions. 
However, you may want to change it to take advantage of a more modern, ergonomic keyboard or one with additional functionality. This selection of keyboards tries to meet this need by offering you various models that focus on office automation, multimedia and ergonomics in order to find the right shoe for you. 
For clarity, the keyboards present in our selection have been sorted by price in ascending order, so you will find for each of the categories (wired and wireless) the least expensive products to finish on references that flirt with the very high of range. We will not fail to update this comparison as the market evolves.
Let's go one by one.
Wired keyboards
Wireless keyboards
Best Wired Keyboards
1. HP K1500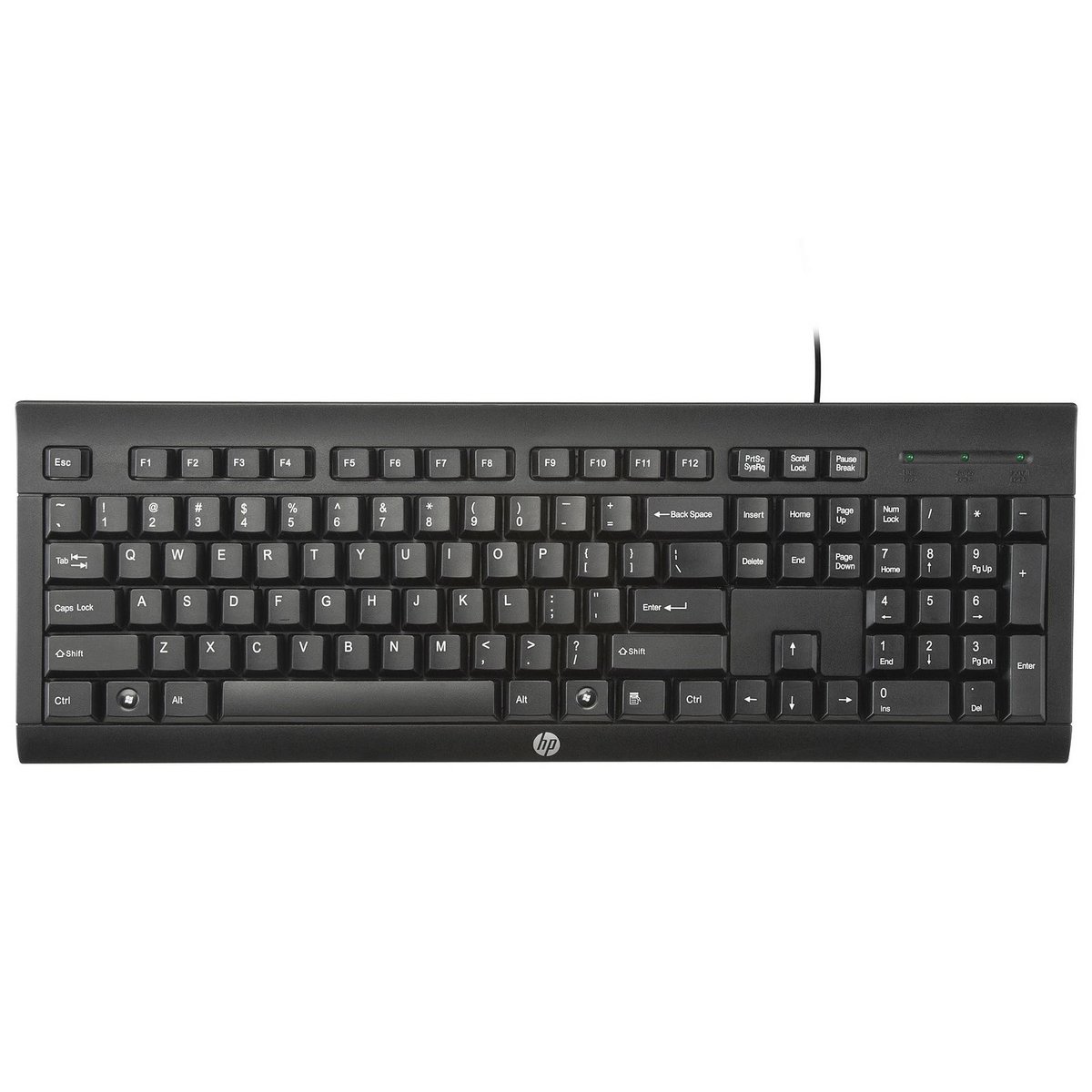 Not always easy to choose from the countless entry-level products! Unlike more complete and expensive keyboards, brands with favorable prices are legion and we often have the impression of having to choose "haphazard luck".
HP K1500: a simple and efficient first price
In this jungle of low prices, disappointment is often there after a few weeks of use, even if you can not really expect miracles when you invest no more than 10 € for a keyboard. However, some manufacturers are working to offer us models that meet some standard needs as is the case with HP with this K1500.
It could not be more classic, the HP K1500 is a simple, but efficient membrane keyboard. Its all-plastic chassis benefits from completely reasonable finishes, thus eliminating the fear of a weak or durable product. Its design is not the finest with its high keys, but remains compact enough not to appear too massive on the desk. Typing does not reach the level of precision of more expensive keyboards due to the perfectible stability of the membranes, it remains however fluid and silent which should be enough to make it a functional office keyboard, which may show its limits if it is used all day long to enter text.
There are only a few features or accessories, no wrist rests, no backlight, only three status LEDs, as well as two extendable feet to adjust its tilt.
HP K1500: User review
For a first price, the K1500 ensures the minimum union with a fairly thin and light design and very consensual. Its membrane feel does not seem particularly appropriate to make it a daily working tool, which is especially true if you enter text very regularly, but it will still fulfill its purpose without being a source of noise pollution. For less than 15 €, it's hard to ask for better.
2. Official Raspberry Pi keyboard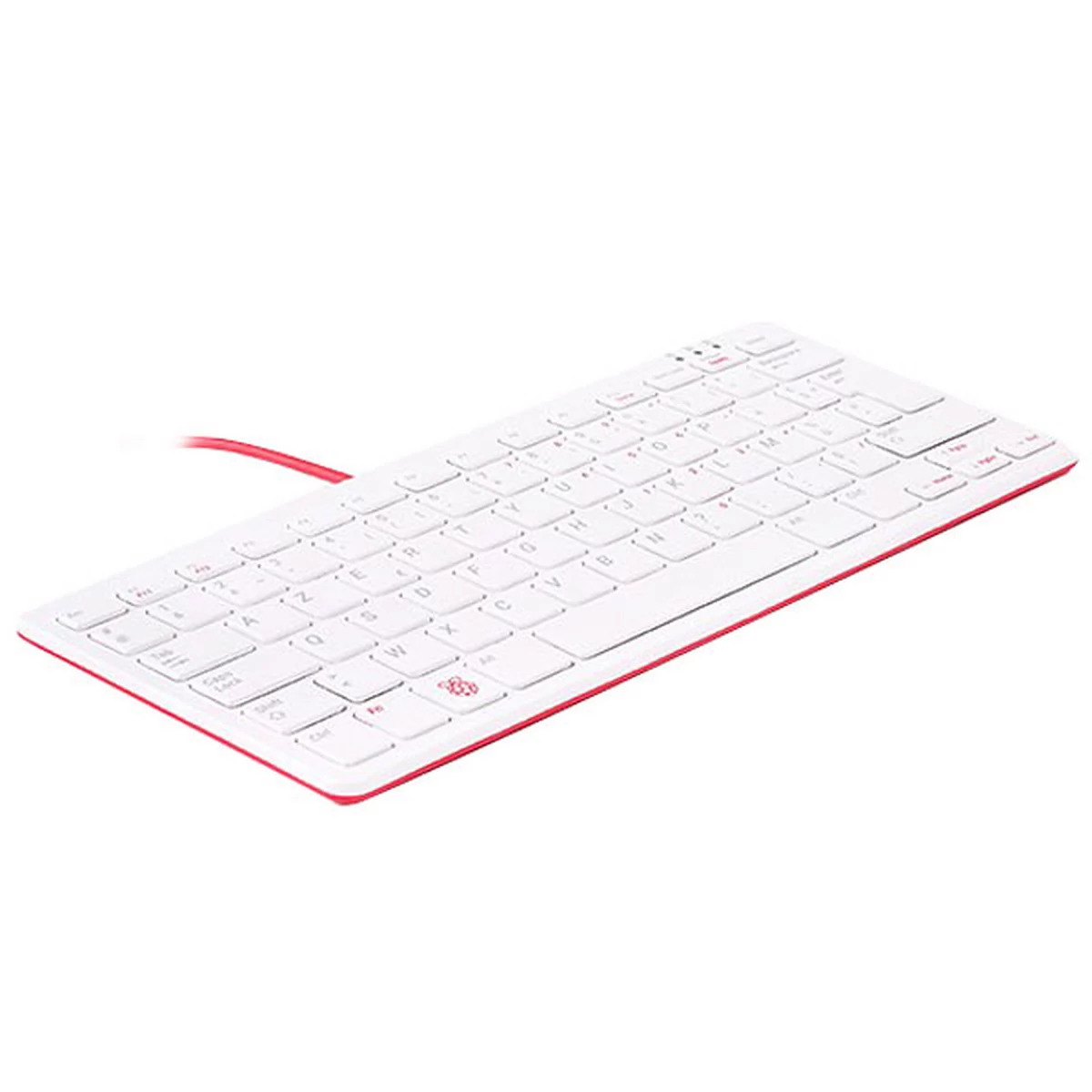 We begin this selection with a somewhat special product since it is the very first official keyboard of the Raspberry Pi foundation, at the origin of the famous nanocomputer!
Official Raspberry Pi keyboard: mini format and price
True to its philosophy, the Raspberry Pi foundation offers a keyboard here at a more than the affordable price which costs around 20 €! But its competitive price is not its only selling point: light (269 g), very compact and with no numeric keypad, it has 79 keys and is therefore easily transportable and occupies little space on office.
Comes with a removable microUSB cable (Type A to Type B), it connects very easily to your devices, whether it is a Windows, Linux or Mac computer, or all nano- raspberry computers. This detachable cable is also more relevant as it is relatively short (1 m) and can, therefore, be replaced by a longer cable in your possession if necessary.
If this keyboard is unpretentious, which ultimately is not really a defect given its price, it still embeds a USB Hub with 3 ports, which will have the advantage of expanding the ports of a Raspberry Pi, or to power other peripherals such as a mouse. Note also that this keyboard can be accompanied by the official mouse of the foundation, sold at a price of around 10 €!
With its compactness, its wide compatibility and its silent typing, this keyboard is not only intended for Raspberry Pi owners. Demonstrating a quality of manufacture quite correct, it will play its role of nomadic and functional keyboard for many users. The makers will find in turn may be ways to improve this keyboard … by inserting a Raspberry Pi !
Official Raspberry Pi keyboard: User review
As stated above, this keyboard is not surprising, rather conventional and unpretentious. However, it shows great qualities with its compactness, its assembly of good quality, its very discreet typing and its three USB ports.
An entry-level keyboard, without many features or backlighting, but which will appeal to those looking for an easily transportable and inexpensive model.
3. Cherry KC 6000 Slim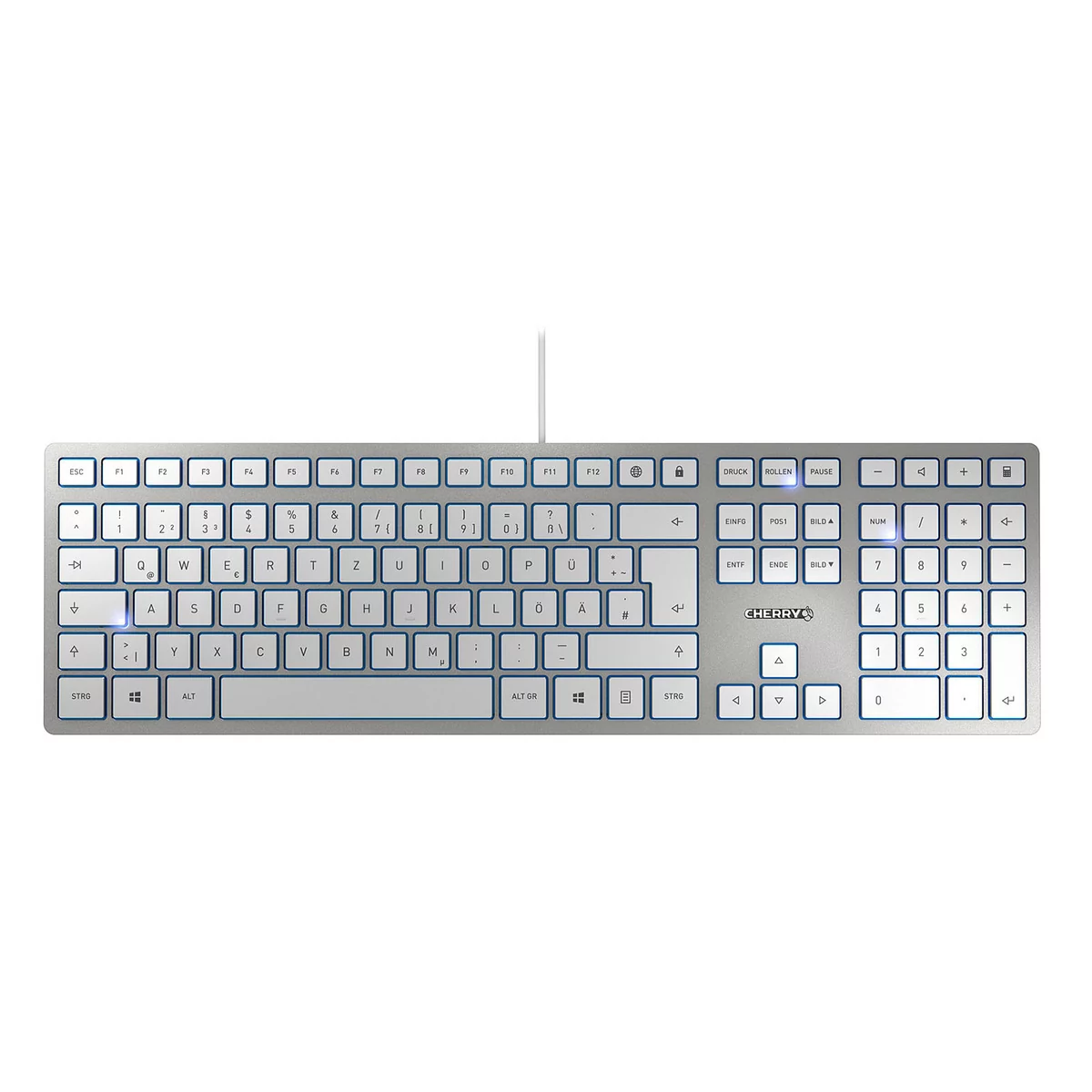 We now find without surprise the famous German manufacturer whose name is on everyone's lips when we tackle the subject of gaming keyboards! Here, however, we will not be talking about the famous MX switches, but chiclet keys developed by the manufacturer: the Cherry SX!
Cherry KC 6000 Slim: precise, quiet and ultra-thin
If you're looking for a simple, solid keyboard for everyday use, chances are the Cherry KC 6000 Slim will catch your eye. Despite its classic format, with numeric and directional keypad, this keyboard sports an ultra-thin design since it does not exceed 15 mm in height thanks to its frame and its low profile keys .
With plastic finishes, the Cherry KC 6000 Slim benefits from a good quality of assembly and seems solid and stable thanks to its aluminum plate traversing the interior of the chassis and thus bringing weight (660 g) and rigidity. Being particularly thin, this keyboard does not offer a wrist rest, which is therefore rather judicious from an ergonomic point of view. Note also that it is not possible to change its inclination due to the absence of extendable feet, which can potentially be a problem for some users, although a "flat" use seems recommended to avoid muscle fatigue .
Besides its finesse, the main advantage of this keyboard is undoubtedly its chiclet-like Cherry SX keys. The race is obviously very short, the typing is fluid, silent and precise thanks to a fairly firm key which avoids typing errors.
Aside from that, the KC 6000 Slim is a fairly basic keyboard that has few features, no backlight, and no software support. There are still 3 status LEDs (caps lock, num and scroll), as well as quite useful multimedia keys (6 in total), which allow you to control the volume, open the web browser, or even lock the session. Windows.
Cherry KC 6000 Slim: User review
A priori fairly classic, this Cherry keyboard adds up the good points thanks to an ultra-thin design, an exemplary assembly and a price that remains largely contained.
Some may deplore the lack of functionality on this Cherry KC 6000 Slim, from our point of view it is especially the backlight which is most clearly missing on call.
At 49 €, we are dealing here with one of the keyboards which offers the very best in comfort and speed of typing with chiclet switches Cherry SX which also have the advantage of being silent.
4. Typematrix 2030 Bépo
It is ​​a Californian company that does not produce a multitude of keyboards by overbidding each year with new models. In fact, the TypeMatrix 2030 is the only model available, but its features have made it a real reference for several years!
Typematrix 2030 Bépo: the Bépo and orthogonal keyboard
The TypeMatrix 2030 is far from being the most recent of the keyboards in our comparison, however, we have selected it in order to find an alternative between 3D keyboards like those of Kinesis benefiting from height-adjustable keys, or other so-called ergonomic models.
Here we have the right to an orthogonal key layout, that is to say that the entire row of keys is perfectly aligned, which is not the case for most keyboards which approximates a Remington machine by the offset of the keys and the layout .
The advantage of such a keyboard is to reduce wrist movements while maintaining accuracy and speed of typing, this of course requires a certain time to adapt to have perfect control, which is all the more true if you choose a Bépo layout .
The advantage of this TypeMatrix 2030 is also that it is available with many layouts and even in a blank version , without any printed characters. Since it keeps the same orthogonal layout for the different layouts, it is very easy to switch from an AZERTY layout to Bépo, or even to Dvorak. TypeMatrix offers a silicone protection (to be placed above its keyboard), in addition to protecting the keyboard from dust and splashes, it allows you to change the language as well as the shirt and offer additional typing comfort while reducing the noise pollution already contained.
Finally, this keyboard does not seem to have aged. Thin and very compact, it sees its ergonomics further strengthen since you can adopt a better position of the arms thanks to the space left free for the mouse.
Typematrix 2030 Bépo: User review
The design of this keyboard may not be the most recent, the TypeMatrix remains a topical keyboard thanks to its ergonomics which attempts to alleviate the problems posed by standard layouts and layout. The Bépo indeed seems much more suitable for the French language, while the orthogonal design and the separating column between the two hands provide perfect ergonomics.
The different skins provide protection and versatility, so programmers should be happy to be able to go, for example, from Bépo to Dvorak by simply changing their "skin".
Still, this keyboard comes at a fairly high price (€ 139), and it is necessary to count an additional € 20 per skin. Finally, being completely different from our usual keyboards, the changes it brings can be disturbing during the first weeks of use, it will necessarily go through a more or less long adaptation time.
5. Ducky One 2 Mini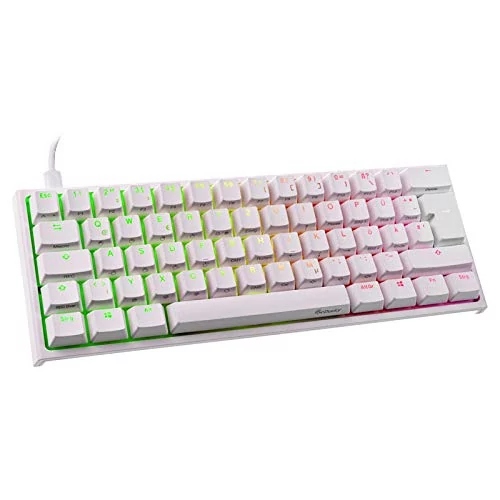 Are you a fan of mechanical keyboards and looking for a versatile and easily transportable model for gaming and office automation? The Ducky Channel One 2 Mini may have everything you need to fill you up!
Ducky One 2 Mini: a mini and versatile keyboard
Rather than having multiple keyboards for your various tasks and for video games, the solution is often to choose the best possible reference in terms of versatility. The ideal is therefore to opt for a keyboard that offers good sensations with fluid and silent typing, satisfactory ergonomics, a solid and durable build quality and which has enough functionality.
The Ducky Channel One 2 meets all these criteria, while its mini version adds an undeniable nomadic and ergonomic character. Well known in the gaming world, Ducky Channel offers us here a keyboard 60% more compact than its standard version, a reduced format which goes to the essential by carrying only 61 keys, but retaining all its functionality.
Equipped with a very thick and rigid plastic frame as well as laser engraved PBT keycaps, this keyboard has proven durability, a point all the more important as the format of this One 2 Mini is made for to be transhipped all over the place. Its nomadic nature is reinforced by the presence of a removable USB Type-C power cable, as well as by the absence of companion software. Indeed, software support is not always relevant depending on usage.
Here, all the functionality is accessible via the keyboard without the need to install a driver, which means that it can work with all its potential on all the computers to which it is connected. Aside from setting the backlight, we can therefore define multiple macros and access multimedia functions using simple shortcuts. The customization being relatively advanced on this keyboard, it will be necessary to consult the user manual to appreciate the potential. Finally, an internal memory allows you to save up to 6 profiles.
The Ducky Channel One 2 Mini is offered with many variants of the MX switches, you can choose according to the typing experience that you like the most. The MX Red Silent, guaranteed for 50 million keystrokes, seems to us the most suitable for gaming and office use. The typing is very pleasant, fluid and precise, while the noise is fairly contained, although still audible.
Ducky One 2 Mini: User review
The Ducky Channel One 2 Mini is a monster of solidity and performance. Easily transportable, fully configurable without software, it shows us a striking backlight and embeds essential features for gamers (NKRO, 1000 Hz Report Rate, etc.)
Also suitable for office use thanks to MX Silent switches, this Ducky Channel keyboard is shows very comfortable for typing. Its many shortcuts can however put off at first and it will be necessary to read its user manual to grasp the full range of possibilities in terms of functionality. In the same vein, we recommend that you take a look at the Cooler Master SK621 .
Best Wireless Keyboards
6. Logitech MK470 Slim Combo
We are starting this selection of wireless keyboards with a model with a compact design that displays a particularly affordable price. Available alone or in a pack with the M350 mouse, this Logitech K580 keyboard is all about sobriety.
Logitech MK470 Slim Combo: working in peace
Simplicity: it is the keyword of this keyboard which however tries to advance multiple advantages. Showing a compact, modern and ultra-thin design, the K580 comes here in duo with its mouse, the Pebble M350, for a price that does not exceed 49 €. If it is accessible for small purses and seems quite minimalist at first glance, this keyboard is nonetheless a nice productivity tool for office use.
With a numeric keypad and arrow keys despite its compactness, it also includes 12 function keys in the form of shortcuts, which will allow you to launch certain applications, manage the volume, or even navigate your multimedia content.
The strong point of this K580 is undoubtedly this simplicity, a minimalism which allows here to benefit from a very elegant design, without neglecting what we expect from a keyboard intended for office automation: its comfort of strikes and its discretion. Indeed, it offers a silent typing thanks to its ultra-flat micro-hinge keys and its scissor switches similar to those of portable computers. Typing is quick and relatively precise thanks to a fairly firm touch and a slightly rough coating of keys. Little more: You can store your pens in the upper part of the keyboard… or why not your Logitech Crayon !
The K580 and its mouse both work with a single USB receiver (RF 2.4 GHz); Logitech ensures here that the autonomy of the keyboard can reach 36 months with its two AAA batteries, 18 months for the mouse. The combo goes into standby automatically after a period of inactivity, thus reducing its energy consumption.
Logitech MK470 Slim Combo: User review
Logitech offers us a convincing entry-level product that seduces with its discretion and simplicity. Sold at € 49.99, or € 24.99 per unit, this MK470 Slim Combo benefits from the quality of finish that we know from the Swiss manufacturer, however we regret having neither backlight nor LED information (caps lock and battery level would have been welcome).
7. Cherry DW 9000 Slim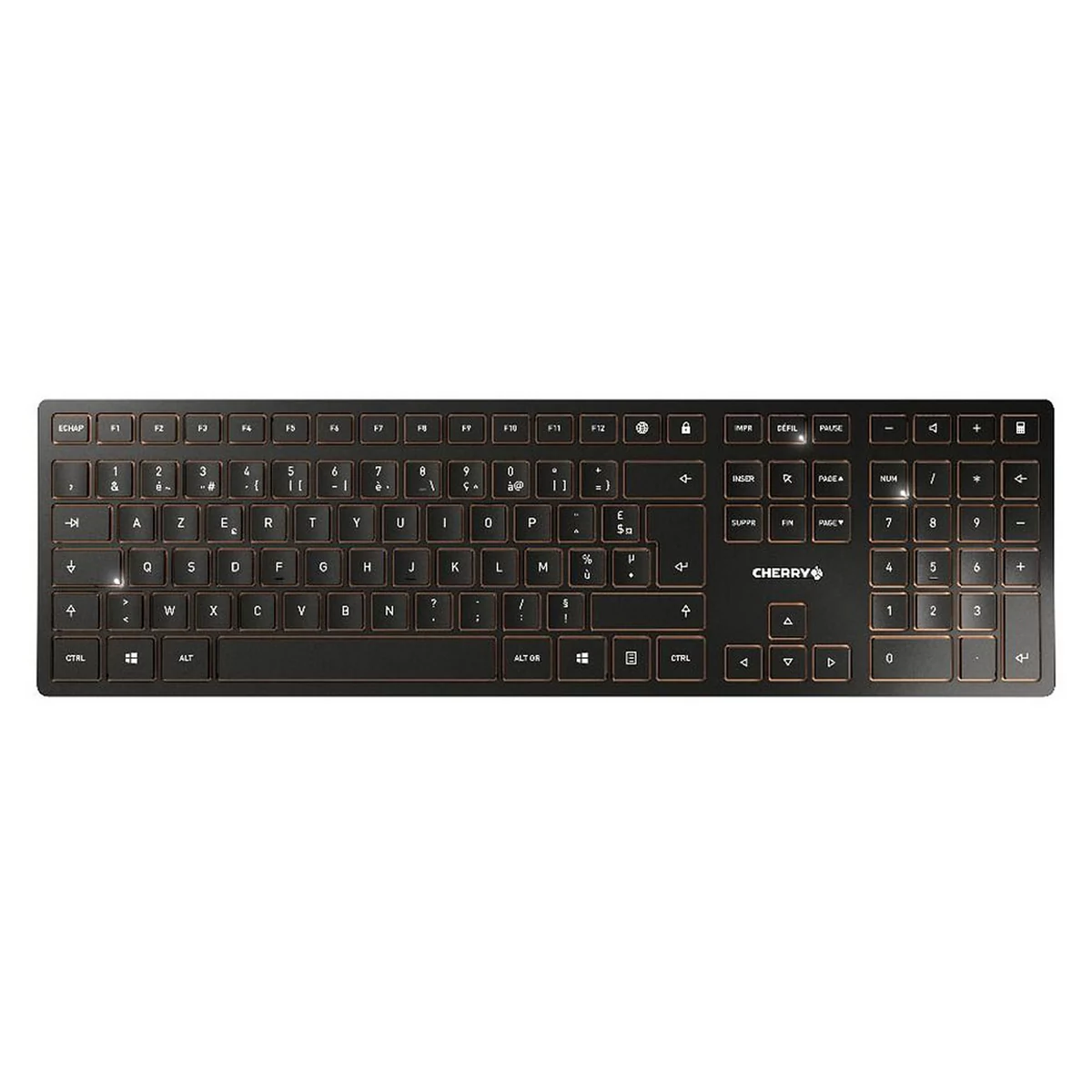 Impossible to cut it, like Logitech or Microsoft, Cherry is one of the key players in the world of peripherals. It is therefore no great surprise that we find here the DW 9000 Slim keyboard / mouse combo, a duo with discretion and finesse.
Cherry DW 9000 Slim: the ideal combo?
Presented a few months ago, this combo comprising the DW 9000KB keyboard and the DW 9000MW mouse is based on discretion and lightness, with a fairly sober design, but above all very thin since the keyboard is no more than 15 mm high. The two references can of course be purchased separately and we will content ourselves here to reveal the characteristics of the keyboard.
It sports a classic format with well-defined spaces for the numeric and directional pads. There are 111 keys that benefit from laser engraving; among them, 6 keys are dedicated to specific functions (volume management, launching the browser, etc.). Like its wired predecessor, the KC 6000 Slim, the switches are chiclet type here since it is the Cherry SX. Its ultra-flat keys allow a fluid and fast typing thanks to a very short stroke and a good return, ideal for typing and many other office activities.
Unfortunately the backlight is not in the game, which seems rather unfortunate given the high-end character (and price) of this keyboard. Here we will have to settle for three status LEDs, not essential, but still very useful. The other weak foot of this keyboard is to be put on the account of the adhesive feet, the DW 9000KB is indeed not endowed with deployable feet as we are used to seeing it, but simple removable feet which come fix with an adhesive. This choice is quite strange and we doubt the effectiveness of this adhesive over time. However, the keyboard is very pleasant to use when positioned flat.
Equipped with a 650 mAh battery, this keyboard has a very large autonomy. Its life at full charge easily reaches several weeks, a longevity certainly due to the absence of backlight. Finally, two connectivity modes are offered with this keyboard, which is a good way to easily switch from one device to another using Bluetooth or via the 2.4 GHz RF of the USB dongle.
Cherry DW 9000 Slim: User review
Our opinion here comes very close to that which we issued concerning the KC 6000 Slim, namely that this keyboard signed Cherry garners good points, but lacks functionality and in particular a backlight.
The Cherry SX keys are simply perfect for office use, while the delicate design is elegant and conducive to rapid and productive typing. The choice of adhesive feet rather than deployable feet to enhance this keyboard, however, leaves us a little perplexed.
To conclude, this keyboard will accompany you every day without any worry. Now if you don't specifically need a wireless keyboard, you'll save some money by turning to the KC 6000 Slim.
8. Logitech MX Keys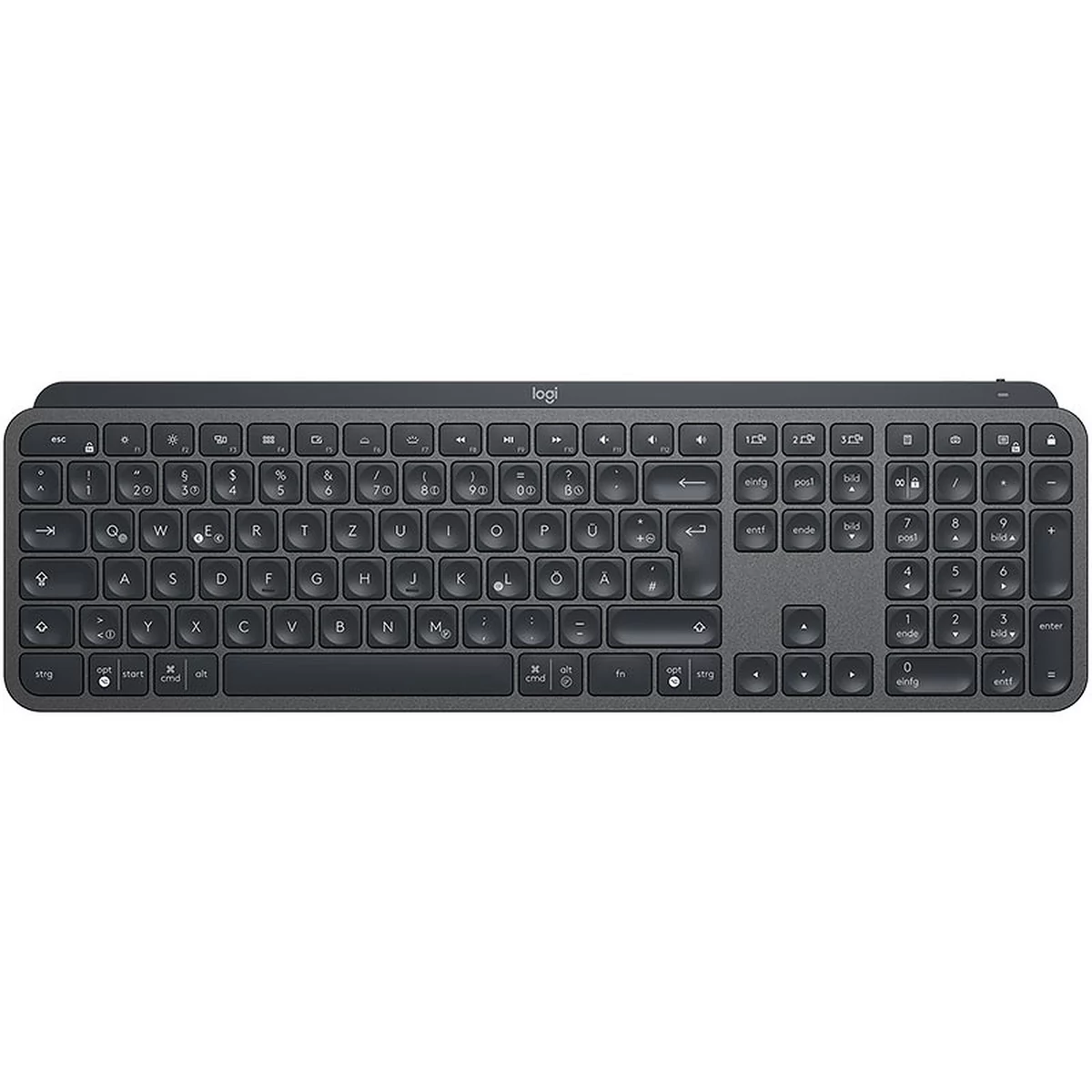 For a few tens of euros more than the model presented previously, the MX Keys is more like a productivity tool with multiple functionalities. Logitech also claims that it has been " studied for designers and designed for coders ".
Logitech MX Keys: the choice of the editor
Unveiled recently at IFA 2019 accompanied by the MX Master 3 mouse , this keyboard takes up the main lines of its predecessor, the Logitech Craft, except that the manufacturer has overlooked the large upper strip and its wheel here. multifunction. The absence of this accessory can be seen as a desire to erase the defects identified on the previous model, starting with its price since the Craft was negotiated at 199 €.
Significantly more compact, the MX Keys retails for € 109 keyboard only, € 119 if you choose the version equipped with the MX Rest wrist rest. Obviously the addition remains salty especially for those who wish to take advantage of the MX Keys / MX Master 3 combo, but we are resolutely dealing here with high-end peripherals which do not suggest any deficiency.
This keyboard is made up of 109 chiclet type keys. Except for the top row and part of the bottom row, all the keys benefit from a concave structure which brings a real gain in precision if compared with the flat keys of a laptop, thus facilitating data entry and limiting errors. of strikes. Although it is sober, the screenprint appears overloaded on certain keys that incorporate many special characters, as well as functions intended for both macOS and Windows users. Those who only work on Windows will then find these additions useless, but they are ultimately a great advantage for those who use different operating systems, especially since the MX Keys can be used on three computers with the Easy-Switch function. .
Supported by Logitech Options software , the two new references in the MX series are customizable as desired and have many features. We also find a dual Bluetooth Low Energy and RF 2.4 GHz connectivity via the USB dongle, as well as a good autonomy of 5 months with backlight off, 10 days if it is constantly activated.
The backlight is one of the great successes of this keyboard, sober and efficient, it is said to be "intelligent", because it uses a proximity sensor which allows it to turn on or off when you approach or move your hands away . The intensity of the backlight adapts to the ambient light!
Logitech MX Keys: User review
The MX Keys is a very convincing keyboard that promises to be an undeniable productivity tool, an argument that sounds doubly if you fall in love with the MX Master 3, a mouse that shows great innovations.
The only regret concerns in the end the weight and compactness of this keyboard, it actually still seems a little heavy with its 810 g and not compact enough to be transported. It remains that at this price and thanks to its great qualities, it easily imposes itself as being the choice of the editor!
9. Corsair K83 Wireless
Not easy to control keyboard and mouse at the bottom of our sofas! The voice assistants, as well as some high-end remote controls like the Rii Mini i25 which is relevant thanks to its gyroscopic function, allow you to navigate and control your smart TV or Android box without worry .
The Corsair K83 strives to offer a complete solution for HTPC systems, Home Theater Personal Computer . An elegant and functional "living room" keyboard that does not miss its target.
Corsair K83 Wireless: the ultimate multimedia keyboard
After trying to interfere in our living rooms with products more intended for gamers with the Bulldog living room PC , its support for Lapdog keyboard and mouse , Corsair is targeting this time a different audience with this K83 Wireless which, despite some functions gaming, is mainly intended for moviegoers and other binge-watchers .
Elegant, compact and robust, the Corsair K83 is adorned with an anodized aluminum plate, a thin and light design (480 g) and naturally skips the numeric keypad to offer multipoint touchpad, volume wheel, navigation joystick and clickable buttons. In addition to the possibility of easily navigating through the menus, the joystick can be used to play, an activity that Corsair also highlights with ZQSD keys in lighter colors, as well as anti-ghosting on 20 keys.
Apart from a few casual game titles, it does not seem appropriate for video games; these characteristics are much more relevant for a purely multimedia use, like its multipoint touchpad which supports tactile gestures, with 4 fingers, of Windows 10. Finally, we also have the right to 12 shortcuts on the F1 keys to F12, which allow easy management of multimedia content.
Programmable via the iCUE software, this keyboard opts for a white backlight, a boon since one suspects that this keyboard is primarily intended to be used in the dark. Regarding connectivity, the K83 leaves us the choice between Bluetooth and the 2.4 GHz RF link via a USB receiver. The announced autonomy is 40 hours, recharging is done via a simple USB cable, no USB Type-C for a quick recharge here, which is a shame.
Its flat keys and scissor switches seem perfect for fluent text entry, all in absolute silence. The reverse screen printing for special characters is the only questionable point here, it will indeed be vigilant since Corsair takes up here Razer's bad habit of inverting numbers and special characters, which can be disturbing and cause some errors.
Corsair K83 Wireless: User review
With its neat and discreet design as well as its functionalities, the K83 Wireless sets an example and advances as a multimedia living room keyboard par excellence.
Its numerous controls, shortcuts and backlight make it a fully functional keyboard that will fulfill its role wonderfully, qualities that are supported by exemplary finishes. Remains that its price seems quite spicy if we take into account the fact that the K83 is intended for a very specific use, it is very likely that it will ultimately be quite little in demand unlike a gaming or office keyboard, which poses the question of the relevance of its acquisition.
10. Microsoft Surface ergonomic keyboard
Some keyboard layouts are more ergonomic than others, but the position of the hands can also play a fairly important role in preventing and avoiding possible pain.
The Microsoft Surface ergonomic keyboard intends to make you adopt a better position with a keyboard that is primarily intended for those who type text all day long.
Microsoft keyboard Ergonomic surface: both classic and original
Certainly this keyboard does not break with the arrangement of secular character and its offset of keys which seem to be a brake to achieve perfect ergonomics. However, we can recognize that Microsoft has made a great effort to develop an ergonomic product dedicated to those who spend most of their time with their hands on the keyboard.
Difficult not to see how this keyboard is different from the others with its two distinct parts divided, its curved frame and its keys arranged in an arc. Like the Microsoft Sculpt, this Surface keyboard intends to offer a relaxing and comfortable experience for the wrists and forearms thanks to a more relaxed and natural positioning of the hands. Quite voluminous at first glance, it is especially its very wide wrist rest that leaves this impression; fortunately this is essential as it brings comfort with its Alcantara coating. The main differences with the Sculpt are also noticed at this level, the ergonomic Surface keyboard being presented as a much more chic and comfortable keyboard.
Apart from its ergonomic nature, this keyboard is quite classic, after all, it embeds chiclet-type switches guaranteed for 10 million activations and which offer a perfectly suitable typing experience. It takes some time to adapt to fully master the seizure and begin to benefit from the benefits of this particular arrangement.
Regarding connectivity and autonomy, we will have to be satisfied here with Bluetooth and operation on two AAA batteries for a lifespan of about 12 months. Given this mode of operation, Microsoft has not seen fit to offer wired connectivity; a rather black point because it is then always necessary to have Bluetooth and that no alternative solution does
Microsoft ergonomic surface keyboard: User review
Like the Sculpt, this ergonomic keyboard allows us to adopt a position of hands and wrists that is much less restrictive while retaining our rhythm of typing, as long as we get used to this particular arrangement.
The object itself is elegant, it shows a refined design, very pleasant when taken in hand, and it is obviously not for nothing that it is part of the Surface range . Apart from its price still quite high, the weak point of this keyboard signed Microsoft is probably to offer only one and only mode of connectivity.
We invite you to tell us about your favorite references in comments , listing, if you wish, their advantages and disadvantages.
Media Team of Matchlessly is dedicated to explore and collect all the stories/info which require the attention of the world.